Book me for your next event or author visit! I am available most days throughout the year and my presentation info is listed below. For bookings and queries, contact me at
joey@tragic-planet.com
.
Joey Weiser
is the Eisner Award-nominated author of
Ghost Hog
and the
Mermin
graphic novel
series
from Oni Press. His comics work ranges from writing and drawing for
SpongeBob Comics
to coloring the
Jedi Academy: A New Class
series. His first graphic novel,
The Ride Home
, was published in 2007 by AdHouse Books. He is a graduate of the Savannah College of Art & Design and currently lives in Athens, Georgia.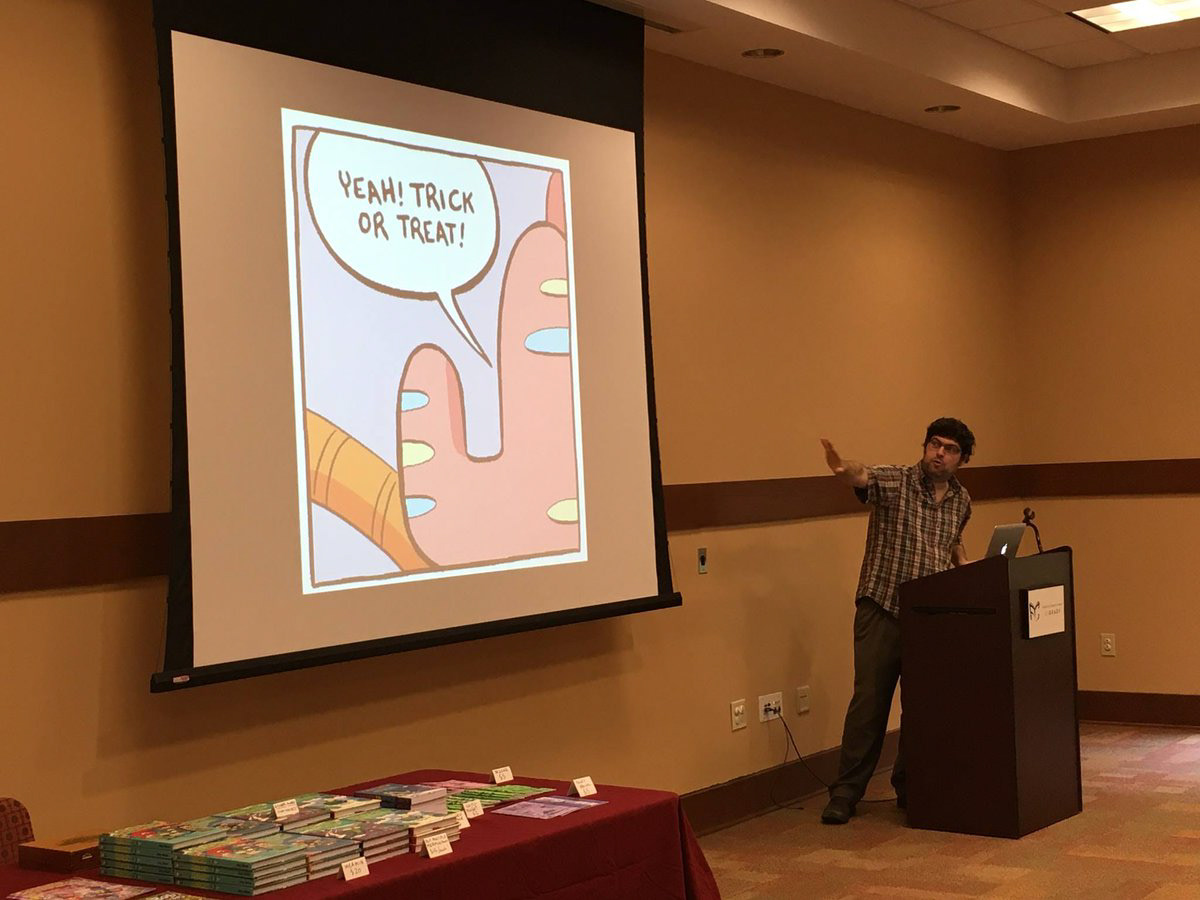 Creating a Graphic Novel with Joey Weiser
I have a few variations on my 45-60 minute presentation, depending on your preference. There are two areas I can focus on:
Creative
: Answering questions I am often asked, such as "How do you come up with your ideas?" using
my graphic novels 
as examples. Followed by a step-by-step look at how I draw a page.
This focus is recommended for a younger audience (middle school and below), but can be tailored for an older audience if requested.
Career
: An in-depth look at my personal history as an author, from early influences to the steps I took to create & publish my graphic novel series
Mermin
and beyond. There is more of a focus in this talk on how one gets a job working in comics, finds freelance work, etc. Followed by a step-by-step look at how I draw a page.
This focus is recommended for an older audience (middle school and up), but can be tailored for a younger audience if requested.
If you'd like a combination of both presentations, that is possible, but the runtime is closer to 1.5 hours. This is only recommended for older audiences (high school and above), and preferably with a short break built in pushing the total event to around 2 hours.
Both presentations will be followed by
Q&A
as time allows. I like to fit in at least a few questions, to engage with your students, but this depends on how much time for my visit is allotted in your day's schedule.
These presentations are created to be accessible for those not familiar with my work, but
having read my books definitely can enhance the experience
. If your school or library has copies of my graphic novels, please display them before the author visit. If you'd like to have students purchase the books, that info is below.
I will happily sign and sketch in all copies of the books for the group.
If this is something you feel students will want, please allow time for that as well.
I can give a brief drawing demonstration, showing how I build on basic shapes to create characters both simple and complex. Following the demonstration, I will hand out sheets for the students to create their own characters! After the students are given time to draw, they will be asked to show off their work. This workshop takes an additional 20-30 minutes.
Drawing worksheets will be provided, but I request that the class bring their own drawing tools (standard pencils and pens / markers are fine).
I can participate in a 20-30 minute virtual visit (preferably using Skype) with classrooms, book groups, and library groups that have read at least one of my books. The visit will include a short talk drawing on either of the presentation focuses listed above, and time for Q&A afterward. It is always helpful when kids prepare questions in advance!
I am also available to speak to adult groups about creativity, art, and storytelling at conferences and libraries. As mentioned above in the presentation focuses, my talks can be tailored to specific groups of all ages and interests.
Athens, GA area (less than 1-hour drive away):
$300/day (includes up to three sessions and can be split between two locations)
Outside of Athens, GA area (1 to 3-hour drive away):
$400/day (includes up to three sessions and price can be split between multiple locations!)
Outside of Athens, GA area (more than a 3-hour drive away, continental United States):
$500/day + travel expenses (includes up to three sessions and price can be split between multiple locations!)
Virtual Visit (condensed presentation and Q&A):
$100
To discuss pricing, don't hesitate to contact me
: joey@tragic-planet.com
REQUIRED AV TECH / MATERIALS
Screen and/or projector
for images connected to a
computer compatible with a USB flash drive
for the visual presentation. I will just be scrolling through a series of full-screen .jpg images, so no software such as Powerpoint is necessary.
No sound system is required unless your group is too large to hear a person speaking unamplified.
Large drawing pad and fresh markers
(at least one black marker and one marker of a color other than black)
for those who opt for the workshop. Drawing pad & markers are not required for presentation-only visits, but if provided I can still do some live drawing demonstrations.
There will be time for a Q&A after the presentation. Teachers are responsible for deciding the best way for students to ask questions. Examples in the past have included preselected questions students read from note cards, a teacher selecting hand-raisers, and students simply lining up one-by-one. I will do my best to answer every question based on the school's schedule.
I ask that any school having me visit give the students an opportunity to order my books. Often following a visit, kids will request the ability to purchase books again, having met me. I encourage orders to be allowed after my visits.
Oni Press encourages you to order my books through your local independent bookseller, comic shop or wholesaler (Ingram or Baker & Taylor) of choice.

If you are unable to locate the titles or quantity you desire,

you may order my books through Simon & Schuster.

Click here for more information about ordering directly from Simon & Schuster
.
A
40% discount
is offered on orders for author visits but
please note that ordering direct can take up to 6 weeks for delivery.
Local Athens, GA bookseller
Avid Bookshop
can be contacted about ordering books in the area:
info@avidbookshop.com
Below is a listing of all the books available.
Please place orders with an adequate time for delivery, depending on your vendor of choice, prior to the visit.
Dragon Racer
Softcover, $12.99
ISBN13: 9781620109328
Ghost Hog
Softcover, $12.99
ISBN13: 9781620105979
Hardcover, $21.99
ISBN13: 9781620106549
Mermin Book 1: Out of Water
Softcover, $12.99
ISBN13: 9781620103098
Mermin Book 2: The Big Catch
Softcover, $12.99
ISBN13: 9781620103548
Mermin Book 3: Deep Dive
Softcover, $12.99
ISBN13: 9781620104330
Mermin Book 4: Into Atlantis
Softcover, $12.99
ISBN13: 9781620104675
Mermin Book 5: Making Waves
Softcover, $12.99
ISBN13: 9781620105238
Contact me:
joey@tragic-panet.com
with any questions!